The fourth live startup education program applications are now officially open!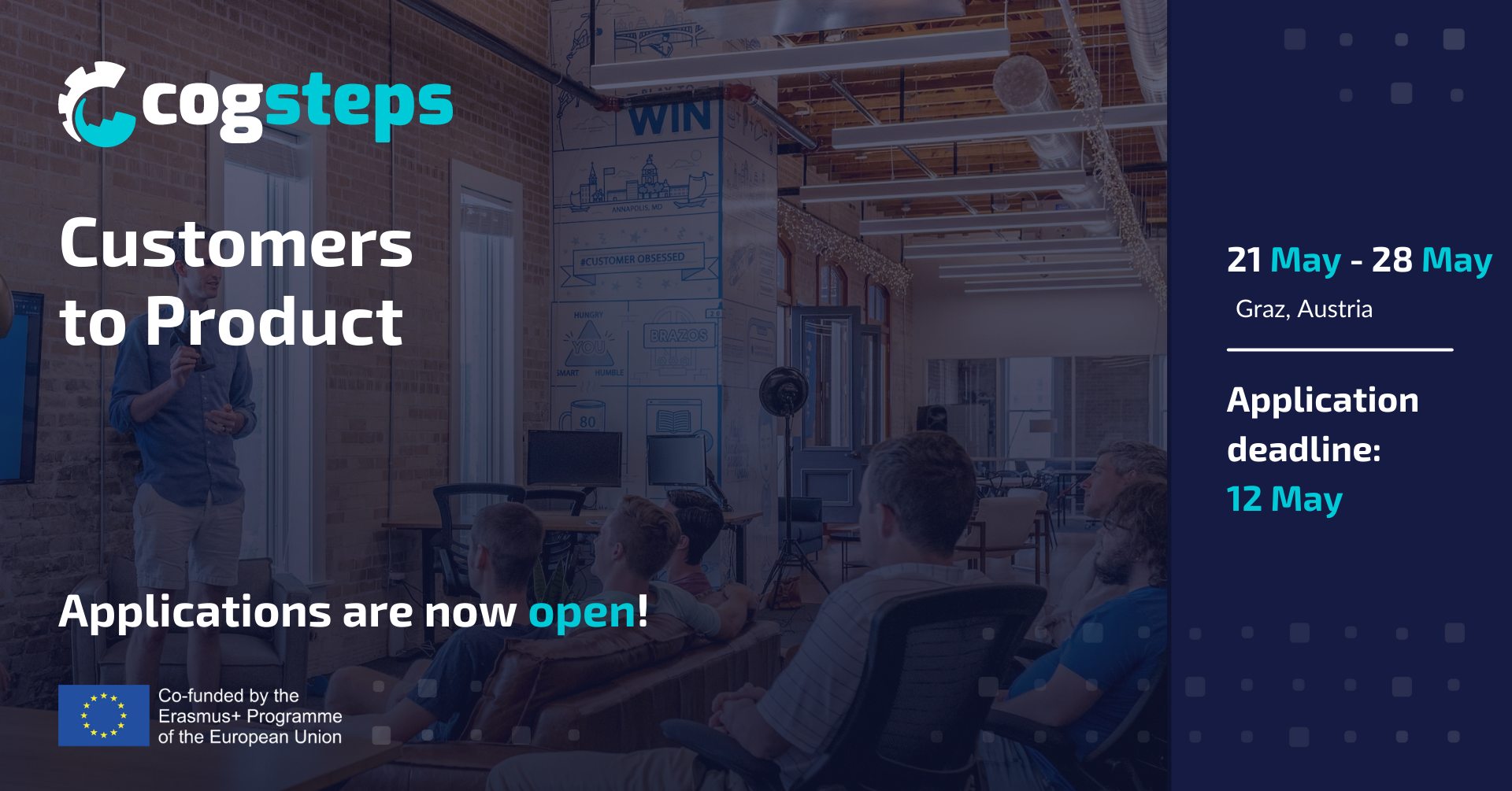 Published 21.04.2023.
Our "From Customers to Product" incubation program will last one week and will focus on business growth, communication, marketing, product pricing, and collaboration with universities. We are pleased to invite research teams from the University of Zagreb and the University of Ljubljana to Graz to spend the period from 21st of May 2023 to 28th of May 2023 with us and our experienced mentors.
Accommodation, meals, and sessions are on us.
Applications are open until the 12th of May 2023.
Our upcoming workshop, "From Customers to Product," is specifically tailored for deep-tech researchers venturing into the world of startups. In this workshop, we'll help you focus on business growth, effective communication, marketing strategies, and university collaborations while ensuring that you understand and address your customers' needs and desires. By participating in this workshop, you will learn to refine your product offering, differentiate your startup from the competition, and establish valuable strategic partnerships. Our experienced industry professionals will guide you on how to leverage your research and deep-tech expertise to create innovative solutions that resonate with your target audience.

Join our one-week workshop, "From Customers to Product," to master essential deep-tech startup skills. Discover how to determine optimal pricing, foster business growth, enhance communication, and implement marketing strategies while collaborating with universities. Our program includes expert-led lectures, workshops, and mentoring, as well as inspiring company visits. Elevate your startup journey with this engaging and informative experience. And as always, we will have a lot of fun in the process.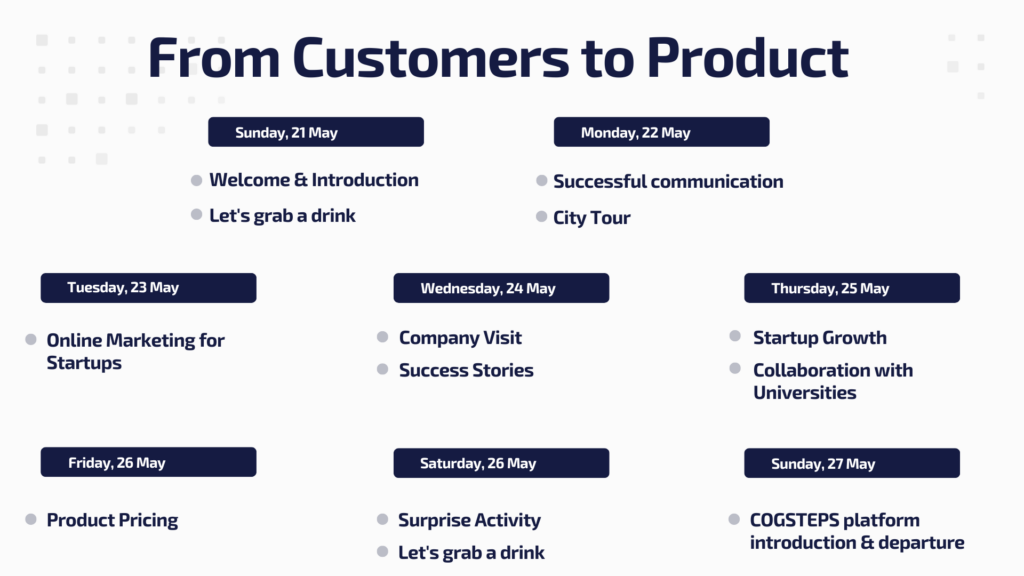 We will have 3-4 hour sessions to let you have enough time to work remotely if needed. All lectures and workshops will be held by experienced mentors and businesspeople who are heavily involved in the startup ecosystem and helped many businesses grow.
Successful communication
Attention has become the scarcest resource of our time. Despite rising media opportunities, it is becoming increasingly difficult to communicate with customers. In this interactive workshop, you will get insights into the secrets of successful communication and hands-on tools that will support you to bring your corporate communication to the next level.
Online Marketing for Startups
This workshop focuses on helping startups find their first customers online and communicate effectively with their target audience. It covers tips and examples of successful online marketing strategies, including defining the target audience and leveraging various online marketing channels (SEO, Social Media/Social Selling, Ads, Emails & more) You will gain valuable insights on how to build a strong online presence for yourself as a founder as and for your Startup.
Startup Growth – Crafting your growth strategy
This workshop session will cover the role of marketing in startup growth using Too Good To Go as an example. We'll discuss the importance of creating a strong foundation through analysis, setting goals, and finding focus. We'll also explore different channels for implementation and provide an exercise for you to work on your growth strategy in small groups with feedback from the whole group.
Cooperating with Universities: What to consider, what to expect?
This workshop session will provide insights into collaborating with universities, including what to consider and expect. We'll discuss best practices for building successful partnerships, navigating intellectual property issues, and understanding the research interests of academic institutions. You'll also have the opportunity to ask questions and share your experiences with university collaborations.
Product Pricing
This workshop session will cover the art and science of product pricing, including different pricing models and conducting market research to determine pricing strategies. We'll provide real-world examples and case studies to help you develop effective pricing strategies for your product or service.
Success Stories
This workshop session will explore successful startup stories and the strategies that made them successful, including product innovation, market differentiation, and customer acquisition techniques. You'll gain insights into how successful startups approach challenges and capitalize on opportunities, and have the opportunity to brainstorm and share your own ideas for implementing these strategies in your own startup.
I have heard enough, how can I apply?
We are looking for research teams that are ready to start or already are working on their start-up. You either have an idea, prototype, or just the lust for new knowledge. Our application process is open until the 12th of May 2023 for all employees from the University of Zagreb, the University of Ljubljana, Ljubljana University Incubator, and ZICER. We are evaluating the applications as they come, so make sure to apply as early as possible.
All applicants will be notified of the selection process results by local Cogsteps partners (the University of Zagreb for Croatia and the University of Ljubljana for Slovenia) after your application is evaluated. These partners will also be your contact points and help you to connect with other participants from your country, guide you before the trip to Austria, and help you with any questions you might have.
APPLY NOW and dive into the startup world!

Follow us on Facebook and LinkedIn because we will start announcing our mentors soon. For any questions, feel free to contact us at cogsteps@fer.hr or tduricic@tugraz.at or elacic@know-center.at.
This workshop is supported by our Associate Partners on the COGSTEPS project Science Park and Gründungsgarage.