Apply for the third Cogsteps international deep-tech incubation program and experience winter in Ljubljana!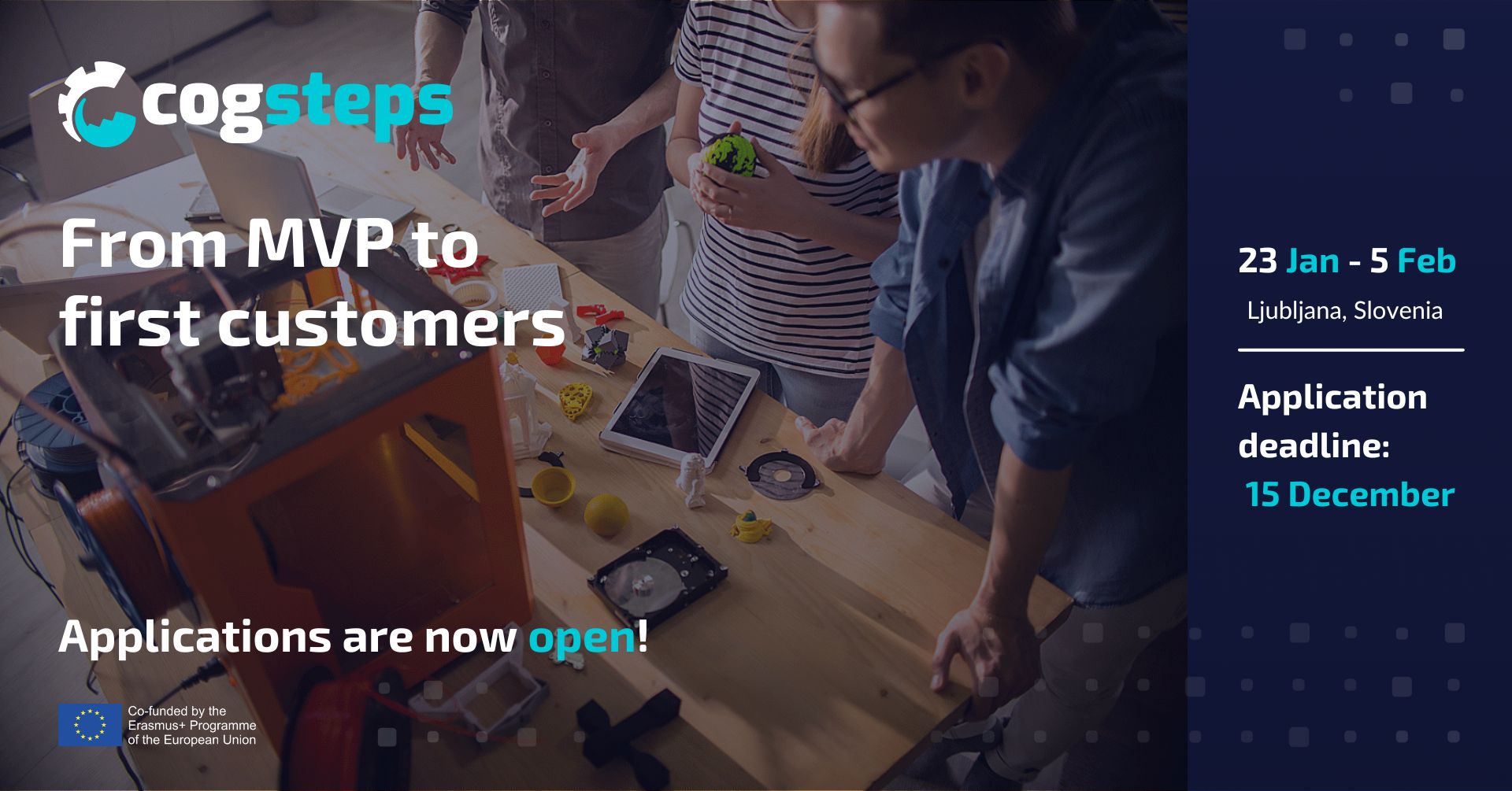 Published 28.10.2022.
The third live startup education program applications are now officially open!
Our "From MVP to first customers" incubation program will stretch over two weeks and will focus on how to get the real feedback from the market and find your first customers. We are pleased to invite research teams from University of Zagreb, Graz University of Technology, Know-Center and ZICER to Ljubljana to spend the period from 23rd of January 2023 to 5th of February 2023 with us and our experienced mentors. You can join for week 1, week 2 or for preferably whole duration. Accommodation, meals and sessions are on us.
Applications are open until 15th of December 2022.
You have been researching for a long time and now you have or will have a minimal viable product (MVP). It is not yet a product as you wish, and it shouldn't be. Reid Hoffman, founder of LinkedIn, said that if you are not embarrassed by the first version of your product, you've launched too late. Launching too late means that you have invested a lot of time and probably money into a product that customers might not like or need. And that is a huge risk you would be taking. What if you are missing a key feature that would convince your customers to buy and use your product and not doing things the way they did up until now. You almost always compete with a current solutions. Whatever underperforming they might be.

In a two weeks-long bootcamp we'll go through the topics that you need to understand to have a successful launch of your MVP, target the right first customers and get as much information as possible to make your final product stand out and find the position on the market that it deserves. We're going to have lectures, workshops, and mentoring. We will visit some companies that were once what you are now and succeeded. And most of all, we will have a lot of fun and hopefully inspire you to become one of the best.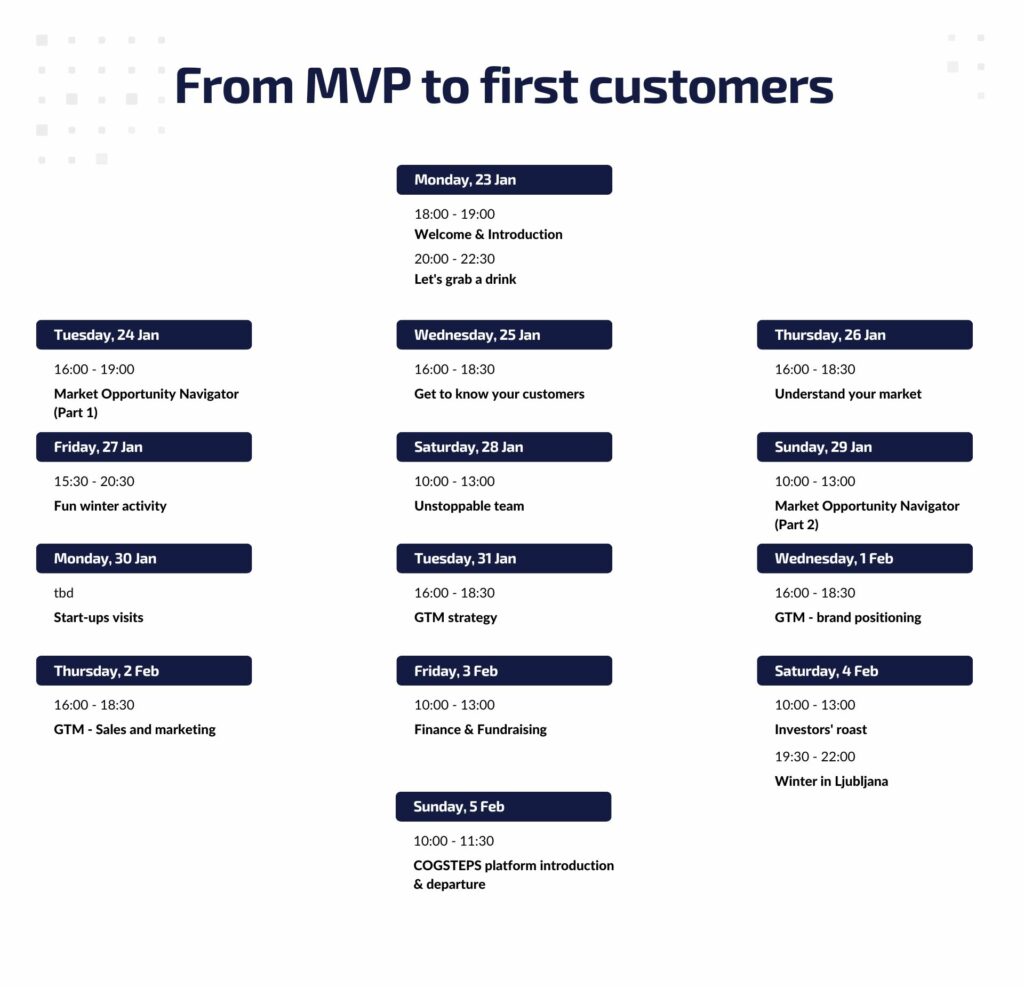 Two weeks sounds extreme, that is why we will have 2-3 hours sessions in the afternoons to let you have enough time to work remotely if needed. All lectures and workshops will be held by experienced mentors and businesspeople who are heavily involved in the startup ecosystem and helped many businesses grow.
Get to know your customers
You can learn about your potential customers before you launch product or service. It is important that you start talking to potential customers as soon as possible. Building a solution for their problems based on your assumptions is dangerous.
Understand your market
It is crucial that you understand the market you are trying to enter. What is the size of the market and how much of it you can take? Who else is competing there? You have a rough terrain ahead of you. Getting information about the market and its phase is critical as it influences the way you move. With limited resources at the beginning, you need to nail it to survive.
Unstoppable team
Besides the obvious lack of customers and cash, not having the right team is the third most common reason why start-ups fail according to the CB Insights research. We don't have the exact recipe for the right team, but there are some aspects you can pay attention to when building your team.
Where to play – Market Opportunity Navigator
You shouldn't play "target market" roulette. The Market Opportunity Navigator and its three guiding worksheets will help you turn this critical choice into a manageable process. It is challenging to prioritize market opportunities in this fast-moving and uncertain world, but this proven framework, based on 15+ years of rigorous academic research, can be a guidance and works great together with the Lean Startup toolset. We will have two workshops – one for worksheet 1 and second for worksheets 2 and 3. We will offer mentoring sessions between the two workshops.
Go-to-market strategy
A go-to-market strategy (GTM strategy) is an action plan that specifies how your business will reach target customers and achieve competitive advantage. The purpose of a GTM strategy is to provide a blueprint for delivering a product or service to the end customer by aligning all team members on the same plan, allowing you to meet a market need and effectively iterate on your product. We will split building a GTM strategy in several sessions focusing on GTM's key elements: sales, marketing, distribution, pricing, branding and competition.
Finance and fundraising
Successful and efficient operation of a business requires good financial foundations. At the workshop you will learn about financial management, accounting basics, cash flow, preparation of financial plans, loopholes and errors in the preparation of financial plans and how to discuss finances with potential investors. We will also offer individual mentoring sessions on investments.
Investor's roast
Investors are the ones who trust you with their capital if they believe you can bring them even more money. They are skilled to analyse start-ups and are looking for inconsistencies. We offer you an opportunity to get roasted by an investor – try and convince the investor that your business proposal is sound. Do you dare?
I have heard enough, how can I apply?
We are looking for research teams which are ready to start working on their start-up. You either have an idea, prototype or just the lust for new knowledge. Our application process is open until 15th of December 2022 for all employees from the University of Zagreb, Graz University of Technology, ZICER and Know-Center. We are evaluating the applications as they come, so make sure to apply as early as possible.
All applicants will be notified of the selection process results by local Cogsteps partners (University of Zagreb for Croatia and Know-Center for Austria) after your application is evaluated. These partners will also be your contact points and help you to connect with other participants from your country, guide you before the trip to Slovenia and help you with any questions you might have.
APPLY NOW and dive into the startup world!

Follow us on Facebook and LinkedIn because we will start announcing our mentors soon. For any questions, feel free to contact us at cogsteps@fer.hr or spela.rozman-dolenc@lui.uni-lj.si.