Published 06.12.2021.
We are excited to announce that applications for our first live startup education program are now officially open! Our Startup 101 bootcamp will be an intensive 5-day education for researchers and scientists who would like to test the business potential of their projects and learn about the startup fundamentals. It will be held in Zagreb, Croatia from 15 to 19 January 2022 and all living costs (accommodation + meals) are on us. Take this opportunity to experience Croatian's capital city, learn almost everything what every early-stage startup founder should know, improve your idea and expand your business network! Applications are open until 24 December for all employees from the University of Zagreb, University of Ljubljana, Graz University of Technology and Know-Center.
During this 5-days long education and training program, participants will learn about startup terminology, important stakeholders in the startup ecosystem like incubators and VCs, Lean Startup and Design Thinking methodology, why storytelling is important, how to create a perfect pitch deck, where to find the money for your spin-off and how to manage the IP. They will also be able to test their ideas and the commercial value of their innovations, getting answers to many questions every researcher or scientist has when it comes to research commercialization and starting their own spin-off.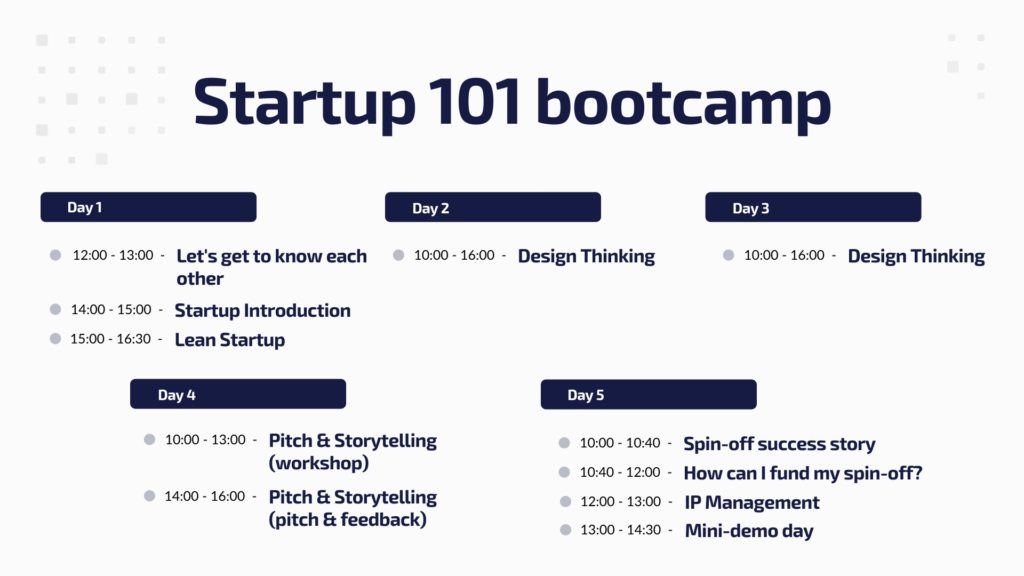 Experienced mentors from COGSTEPS partner organisations will hold workshops on different topics, including all startup knowledge needed for founding a startup, while guiding the participants and helping them to apply newly acquired knowledge and skills to their startup ideas. More details about each workshop are available below.
Let's get to know each other
Participants will be introduced to the program details. They will also introduce themselves and their ideas with a goal to loosen up and to encourage networking since participants will be able to join the team/idea with whom they will work the next couple of days. New people, new opportunities, let's make the most of it!
Startup Introduction
What is actually a startup? What do terms like "founder, CTO, valuation, traction, pitch deck, pivoting, raising, unicorn" mean? What is needed for creating strong foundations when starting the startup? What is the role of incubators and VC funds in startup development? Learn everything you wanted to know about startups and get ready to start your startup journey.
Lean Startup
The Lean Startup provides a scientific approach to creating and managing startups and getting the desired product to customers' hands faster. The Lean Startup method teaches you how to drive a startup-how to steer, when to turn, and when to persevere and grow a business with maximum acceleration. It is a principled approach to new product development. Too many startups begin with an idea for a product that they think people want. They then spend months, sometimes years, perfecting that product without ever showing the product, even in a very rudimentary form, to the prospective customer. When they fail to reach broad uptake from customers, it is often because they never spoke to prospective customers and determined whether or not the product was interesting.
The goal of this lecture is to familiarize researchers with the startup development process so they can take it into consideration during the Design Thinking workshop.
Design Thinking
Thinking like a designer can transform the way organizations develop products, services, processes, and strategy. This approach, which is known as design thinking, brings together what is desirable from a human point of view with what is technologically feasible and economically viable. It also allows people who aren't trained as designers to use creative tools to address a vast range of challenges.
Through 2-day workshops, researchers will work on improving their ideas through the design thinking methodology, getting introduced to the different tools and processes which most researchers don't apply in their regular job.
Pitch and Storytelling
When it comes to startup development, a good pitch often makes the difference between the startups in which investors are ready to invest and those in which they are not. That is why it is important to start working on your pitch deck very early. Through this workshop, researchers will learn what are the key elements of every pitch deck, what is the difference between a good and excellent pitch, what happens at startup competitions and how to go over the fear of public speaking.
They will also apply what they have learned by working on their own pitch decks and pitch in front of other participants. They will receive feedback that will help them to prepare for the mini-demo day.
Spin-off success story
You will have the opportunity to learn from those who were in your shoes not that long ago and ask them everything you wanted to know about starting the successful spin-off. How and why have they started, what is the most important thing that they have learned and what would they advise to the first time startup founders – find out through our spin-off success story.
How can I fund my spin-off?
For most startups, raising investment is the holy grail of their development. But how to get to the point where somebody is willing to invest their money into your vision? At this lecture, we will take a detailed look at different types of funding available for spin-offs like the European Institute of Innovation & Technology (EIT), European Innovation Council (EIC) and venture capital (VC). You will also learn about the investors, all key investment terms, and deconstruct the term sheet.
IP Management
Intellectual property rights management (IPR strategy) is a strategy for managing a company's intellectual property rights portfolio. It also covers the following intellectual property rights such as patent, trademark protection, design protection, and copyright. Startups have become an inseparable element of the innovative economy. Many of these companies base their development on intellectual capital and innovations. In this context, it is extremely important to legally secure the innovations and protect intellectual property. If you are a researcher, it is also important to understand who the owner of the IP is really – you or your employer, and under which terms this IP can be transferred to your startup.
Mini demo day
This bootcamp will end with the mini-demo day. All teams will present their pitch decks and what have they learned during the last 5 days.
Don't be afraid, we don't expect you to create a unicorn (if you don't know what a unicorn in a startup world is, you will learn that here) after this bootcamp. We just want to offer you new skills and knowledge that will help you down the road if you ever decide to start a startup based on your research results.
The goal of this Learning, Teaching, Training activity is to present the academic and scientific communities with all of the opportunities for research commercialisation, motivate them to get involved in the startup ecosystem and help them to develop an entrepreneurial mindset. We hope to educate many researchers, professors and scientists about startup fundamentals, which will encourage them to think about founding spin-off companies and deep-tech startups. The expected result is the engagement of more students, researchers, professors and scientists in upcoming COGSTEPS activities and incubation programmes and bigger interest in the startup world in general.
All applicants will be notified of the selection process results by local COGSTEPS partners (Faculty of Electrical Engineering and Computing (FER) for Croatia, Ljubljana University Incubator (LUI) for Slovenia and Know-Center for Austria) after the applications are closed. These partners will also be your contact points and help you to connect with other participants from your country, guide you before the trip to Croatia and help you with any questions you might have. Apply now at https://forms.office.com/r/Yue5HNJimk before 24 December and dive into the startup world!
Follow us on Facebook and LinkedIn because we will start announcing our mentors soon. For any questions, feel free to contact us at cogsteps@fer.hr.