Apply for the second Cogsteps international deep-tech incubation program and spend an exciting week in sunny Zagreb!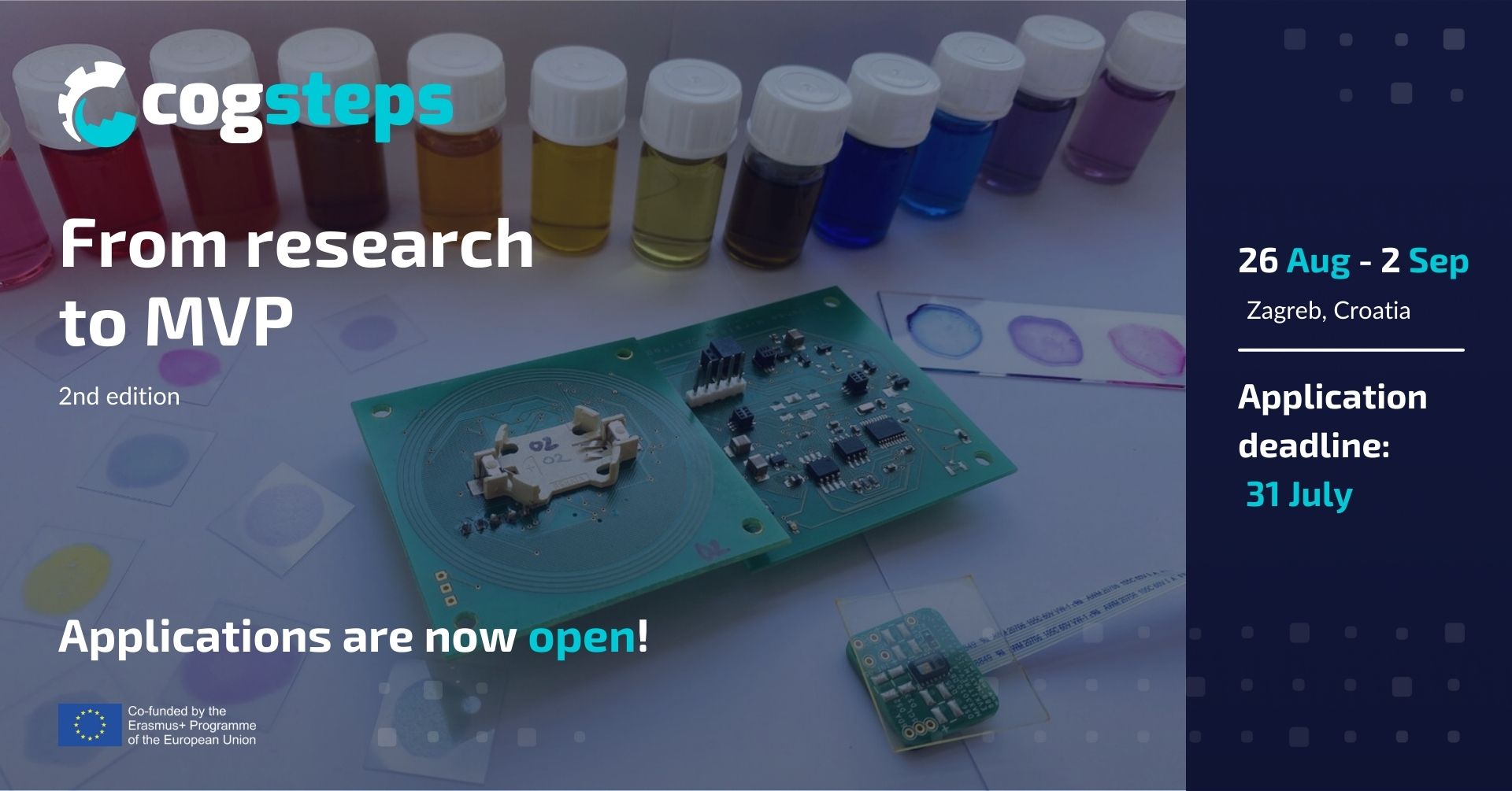 Published 01.06.2022.
We are excited to announce that our second live startup education program applications are now officially open! Our "From research to MVP" incubation program will be a week-long education for research teams who would like to learn how to transform their research results into startup projects. It will be held in Zagreb, Croatia from 26 August to 2 September 2022 and all living costs (accommodation + meals) are on us. Take this opportunity to experience Croatia's capital city, learn about idea validation, business development and prototyping, transform your deep-tech project into a startup idea, and connect with the Croatian startup ecosystem! Applications are open until 31 July for all employees from the University of Ljubljana, Graz University of Technology and Know-Center.
During this education and training program, you will learn how to validate your idea through market research, how to start a business development plan with Business Model Canvas, how to improve your solution using the Customer Value Proposition concept, how to prototype software, hardware and biotech solutions, why storytelling is essential for presenting your deep-tech projects, how to create a perfect pitch deck, and who is who in the fundraising ecosystem and what makes them write big checks for startups. Did you know that Croatia is the home of two unicorns? We will make sure that you meet them too and take some valuable lessons from their journey to success. There will also be some time for exciting social activities and exploring Zagreb you don't want to miss!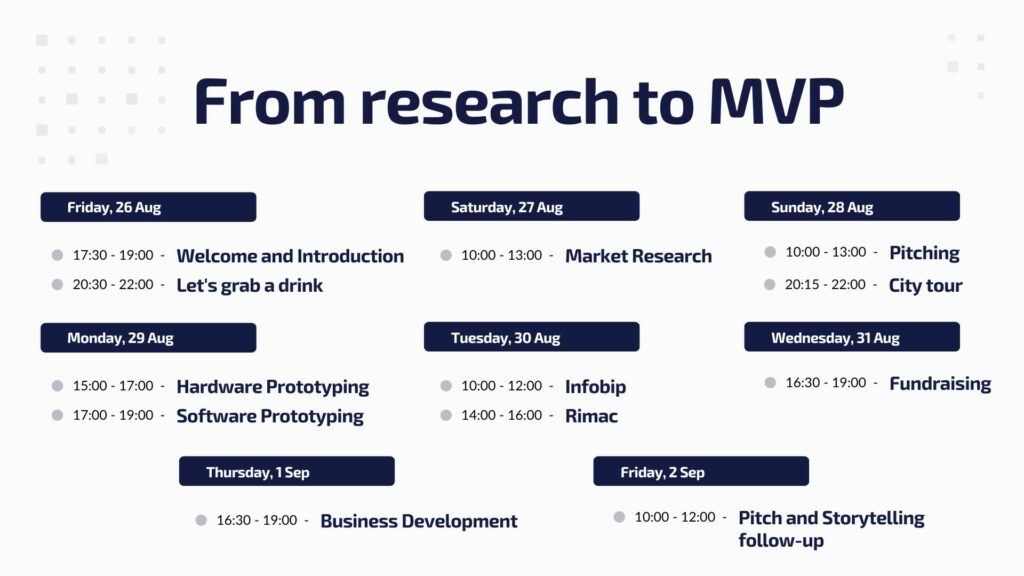 We understand that as a researcher, you have a lot of things on your plate. That is why we prepared the startup curriculum that will enable you to get the most from the Croatian startup ecosystem and still have enough time to work remotely if needed. All lectures and workshops will be held by experienced startup mentors who are heavily involved in the startup ecosystem either by working at some of the most successful Croatian startups like Infobip, Gideon, Photomath, and Amodo or by mentoring startups through different incubation programs. More details about each workshop are available below.
Welcome and Introduction
You will be introduced to the program details and also have the opportunity to introduce yourself and your idea. The main goal is to "break the ice" and start the communication with other participants from day one. The first day will end with socializing over drinks. New people, new opportunities, let's make the most out of it!
Market Research
The workshop will cover three main branches/methodologies of market research – desk, qualitative and quantitative research. Desk research includes searching the Internet and existing research/reports on a similar or the same topic and comparing and summarizing these results. Qualitative research includes in-depth interviews, focus groups, observation of respondents' behaviour, etc., while quantitative research includes different ways of surveying respondents. At the workshop, you will learn how such research is conducted, from just starting up to analyzing the data and creating the final report. Examples will be shown of how Infobip conducts research and how you can conduct research yourself for the needs of your project.
Pitch and Storytelling
When it comes to startup development, a good pitch often makes the difference between the startups in which investors are ready to invest and those in which they are not. That is why it is important to start working on your pitch deck very early. Through this workshop, you will learn to write your story, what are the key elements of every pitch deck, what is the difference between a good and excellent pitch, what happens at startup competitions and how to go over the fear of public speaking.
Prototyping (SW/HW/Biotech)
Working on software, hardware or biotech solution are three completely different challenges. That is why we prepared three separate workshops and you will be able to pick which of them suits you the most. The topic of these workshops is design and prototyping, where we will cover important topics about the specifics of software, hardware and biotech startups and approaches to the development of digital, physical or biological products with an emphasis on the early phase of prototyping. We plan to cover the topics like user stories, mockups, wireframes, building blocks, firmware, certifications, regulations and more.
Unicorn visit
Do you believe in unicorns? Well if you don't, we will make sure you start believing. In Croatia, we have two brilliant companies – one is making the fastest electric supercars in the world and the other is responsible for the delivery of many notifications that you are receiving on your smartphone. We will visit them and learn more about their road to success.
Fundraising
For most startups, raising investment is the holy grail of their development. However – is venture capital also the right path for your startup? Very often, startups enter investment discussions without an understanding of how investors think and what guides their decisions. This leads to unrealistic expectations and unhappiness on both sides.
At this workshop, we will take a detailed look at different types of investors, all key investment terms, and deconstruct the term sheet. You will learn what terms like liquidation preferences, antidilution and the like mean, so you will know exactly what the investors are talking about the next time you meet them, and will be in a much better negotiating position.
In the end, we'll take a look at exits – what happens and how, and how much do founders and investors actually make.
Business Development
Business development includes making a plan, defining a business model, finding key partners, understanding your customers, finding a product/market fit, understanding revenue streams, defining your key advantages and weaknesses, recognizing the true value you are providing for your customers and many, many more. Through this workshop, you will be introduced to different tools, methodologies and concepts like Business Model Canvas, Customer Value Proposition and Impact Mapping which will help you to find the answers to most of your business questions in this stage of the startup development.
Pitch and Storytelling follow-up
At the Pitch and Storytelling workshop, you will get homework. You will have to create your pitch deck and prepare your 3-minutes-long pitch. You can ask for our assistance/feedback and show us your work on any day before the last they. On the last day, you will pitch in front of experienced jury members who will provide you feedback on what can you improve to get that big check for your startup.
I have heard enough, how can I apply?
We are looking for research teams which are ready to start working on their startup ideas. Our application process is open until 31 July for all employees from the University of Ljubljana, Graz University of Technology and Know-Center. We are evaluating the applications as they come, so make sure to apply as early as possible.
All applicants will be notified of the selection process results by local Cogsteps partners (Ljubljana University Incubator (LUI) for Slovenia and Know-Center for Austria) after your application is evaluated. These partners will also be your contact points and help you to connect with other participants from your country, guide you before the trip to Croatia and help you with any questions you might have. Apply now at https://forms.office.com/r/bMBv0D9GWV and dive into the startup world!
Follow us on Facebook and LinkedIn because we will start announcing our mentors soon. For any questions, feel free to contact us at cogsteps@fer.hr.